WordPress website care plans
Save money and time in website maintenance
Why do you need a website care plan?
Example 1: care plan set up after rescue
Last year, a local dog boarding facility rang us, desparate for help. They had a brand new WordPress website. But there were major issues. It didn't display properly on mobile phones. And the original web designer couldn't fix these issues.
We met at their office and looked at the website admin pages. The site was built with a premium theme and premium plugins but none of them were licensed and therefore updates didn't work. We explained how they would need purchase yearly licences, run regular updates and make sure they work.
Boarding dogs is a 7/24 job and they have no time to do regular maintenance on their website.
We charged a couple of hours of work to fix all their initial issues then we put them on our Basic care plan. We purchased the licence for their WordPress theme and set it up. We gave them complimentary licenses for their plugins and this saving alone paid for a few cycles of maintenance.
Example 2: disaster prevented
A few years ago, we created an online shop for a local brick-and-mortar store and put them on our Regular care plan.
One day, as we tested updates on a staging site, we noticed that a WooCommerce extension plugin didn't work properly any more.
Obviously, we didn't try to update the live website.
We immediately raised a support ticket with the plugin vendor and they fixed the issue with their next release a few days later. We tested the new version on the staging site again. This time it worked well so we finally updated the live site.
Then we advised the shop manager that we used their support budget for that month to prevent an outage on their live website. So she suffered no stress, spent no money and the business was not disrupted.
If she had updated the website herself, online ordering would probably have been unavailable for days. The anxiety would have distracted her from normal business duties and she would have lost income.
Immediate Return On Investment
Your car needs to be serviced twice a year, right? Your website also needs regular maintenance: monthly and sometimes even weekly.
You could do it yourself but do you really have the time and the skills? Our WordPress website care plans will save time and stress.
They actually pay for themselves!
We provide up to $620 of yearly complimentary plugin and theme licences.
And we offer between $420 and $1,680 per year of support and website changes, depending on your care plan.
Example: you pay $39 per month for our Basic care plan and you get $87 of value.
Pricing
Basic care plan
for small business websites
Monthly WordPress, plugins and themes updates
Daily offsite backups
Uptime monitoring
Security monitoring and malware scanning
Up to 30mn/mo of support and website changes ($35 value)
Monthly report
SEO checks
Regular care plan
For basic ecommerce sites
Monthly WordPress, plugins and themes updates
Daily offsite backups
Uptime monitoring
Security monitoring and malware scanning
Up to 1 hour/mo of support and website changes ($70 value)
Monthly report
SEO checks
Test main functionalities after updates
10% discount on web development
Premium care plan
For complex sites
Weekly WordPress, plugins and themes updates

Daily offsite backups

Uptime monitoring

Security monitoring and malware scanning

Up to 2 hours/mo of support and website changes ($140 value)

Monthly report

SEO checks

Test Home page after updates

10% discount on web development

Test backup restore once a quarter
And this is what you can expect in your website care plan:
1.

WordPress, plugins and themes updates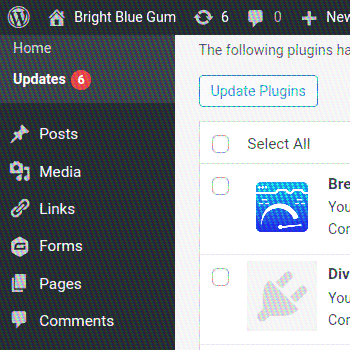 Your website is similar to your computer and your mobile devices. There are constant new updates for improved features and mostly for security purpose.
You need to install updates at least once a month and you need to test your website after updating. Does this feel boring and time-consuming?
And sometimes there are urgent security updates that need to be immediately installed but you may not even be aware of them.
That's we can run regular updates on your website so you can focus on more exciting tasks. We first test updates on a staging site to identify and address issues before we update your live website. We also stay informed about new threats and immediately update your website when an urgent update is required.
Has a client every told you that your website doesn't work any more?
This could be the result of updates that failed, an issue with your web hosting company or an attack by hackers.
Don't be embarrassed any more and be confident that your website is up and running at least 99% of the time. Our monitoring system will check your website every 5mn. If the check fails, we get notified and we investigate as soon as possible.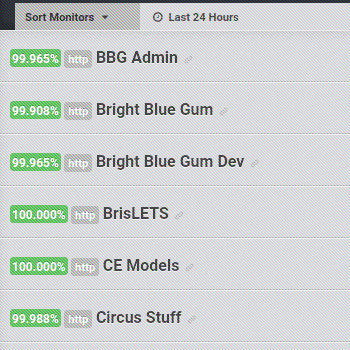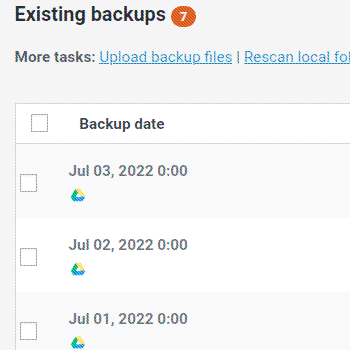 When a fire destroyed part of the OVHcloud data centre in Strasbourg in March 2021, many websites suddenly went offline. Some who backed up their data on their hosting server lost everything in the blaze.
Could they have prevented this? Yes, with offsite backups.
Websites that we manage are backed up every night and the files are copied out of the web hosting infrastructure to cloud storage like Google Drive or Dropbox. We also manually check backup files once a month to make sure they're complete.
4.

Security monitoring and malware scanning
Getting your website hacked is your worst nightmare as a business owner. Apart from the loss of reputation, your business may lose revenue when customers can't order online or simply can't contact you. You will need to spend time and money to clean up your website and sometimes reimburse customers who have been victim of fraud.
We scan your website once a month to make sure there's no malware installed.
We install a security plugin to prevent brute force attacks.
Our management system monitors potential outdated plugin and themes that need to be replaced.
When an urgent security patch is issued, we install as soon as possible.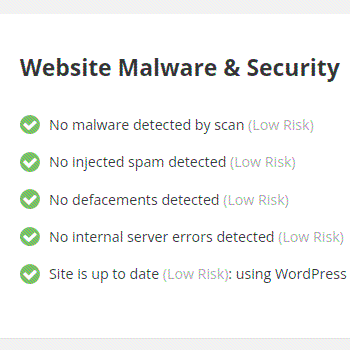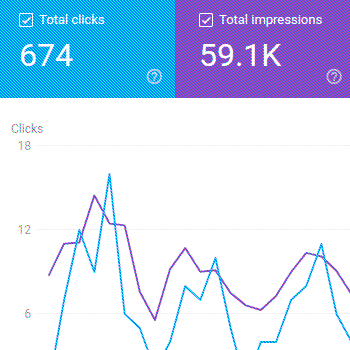 Do you know if anyone actually visits your website? Which pages are popular?
You could check yourself in Google Search Console (GSC)and Google Analytics (GA). But all these technical reports full of warnings and suggestions are confusing for non-technical people.
We install a complimentary premium SEO plugin that not only improves your on-page SEO but also displays Google Analytics metrics in a user-friendly format directly in your WordPress dashboard. And we manually check the GSC and GA for any potential issue.